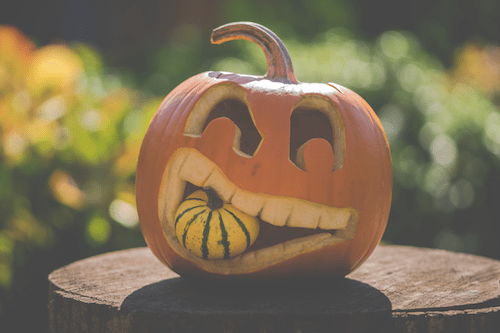 Welcome to the month of October, where the crunchy leaves drift across the road and the faint smell of pumpkin spice drifts through the air. October tends to be a fan-favorite month. Whether it's watching football games, heading out to the pumpkin patch or getting dressed up for Halloween, there are lots of fun, family-friendly activities to do during October. And of course, one thing you can always do is volunteer to give back in your community.
Sometimes, we want to volunteer, but aren't quite sure where to start. Should you volunteer with an organization, or come up with a project on your own? The options are endless, and it can be daunting to figure out. But, there are plenty of ways to get involved in your community this month. To get you started, we came up with six spooky-fun volunteering ideas for October.
1. Help clean up the neighborhood.
Fall tends to bring seasonal changes that affect the neighborhood. Leaves fall, gardens start to freeze and plants start to get crisp in the cool air. Volunteer to give back this month by helping clean up the neighborhood. For instance, offer to help your elderly neighbor rake up leaves in the front yard; or, help clean up the community garden and prepare it for winter. By cleaning up the neighborhood, you can embrace the season and give back at the same time.
2. Run in a fundraiser race.
Many nonprofit organizations—both local and national—offer fundraiser races during the month of October or the fall months. Volunteer to give back by running in a race you enjoy. Raise money to support the cause you care about and engage your family and friends. Then, show your support by running. Even if you're not a huge runner, these events are fun to be a part of—and you can always raise money without actually lacing up your shoes.
3. Host a "paint your own pumpkin."
What's the first thing you think of with the month of October? Pumpkins, of course! Get into the spirit of the month by hosting a paint (or carve) your own pumpkin event. For example, contact your local school or community center to see if they would like to put on a pumpkin event for the children. Then, invite friends and family to bring their kids—and their pumpkins—while you supply the paint or carving equipment. Add in a few drinks or snacks and you have a fun event the whole community can enjoy!
4. Volunteer with a haunted house.
Throughout the month of October, plenty of pumpkin patches and haunted houses look for team members to help them get the show running. While some of these members are employed, you can give back by volunteering to work with a haunted house or pumpkin patch. Help bring smiles—and maybe a few screams—to children in your area, all for just a few hours of volunteering. Whether you dress up as a scarer, serve hot chocolate or drive the hayrack ride, your volunteering commitment can definitely brighten someone's day.
5. Serve at a local kitchen.
Of course, with October comes cooler weather, which can often drive people in need indoors to local shelters or soup kitchens. Give back and show you care by volunteering to serve at a local kitchen. This can be as simple as a few hours on one single day, or as complex as a weekly commitment. And with Thanksgiving just around the corner, this is a great way to consistently get involved in the community.
6. Trick or treat with a purpose.
With the end of October quickly approaching, we look forward to one of our favorite holidays—Halloween! Volunteer to trick or treat with a purpose this year by signing up to raise money for a cause you care about. Lots of organizations have trick-or-treat programs on Halloween, or you can create your own by raising money for something unique. You could even volunteer to trick or treat for children who aren't able to go out on Halloween. No matter how you choose to give back, Halloween is a great time to get involved.
October is officially here, which means there are plenty of ways to give back and volunteer. Try out some of these ideas this month to show others you care and make a tangible difference in your community.